Buttermilk Banana Bread. Stir baking soda into buttermilk and add to mixture. Sift baking powder with flour and blend into creamed mixture. Add vanilla and banana and mix.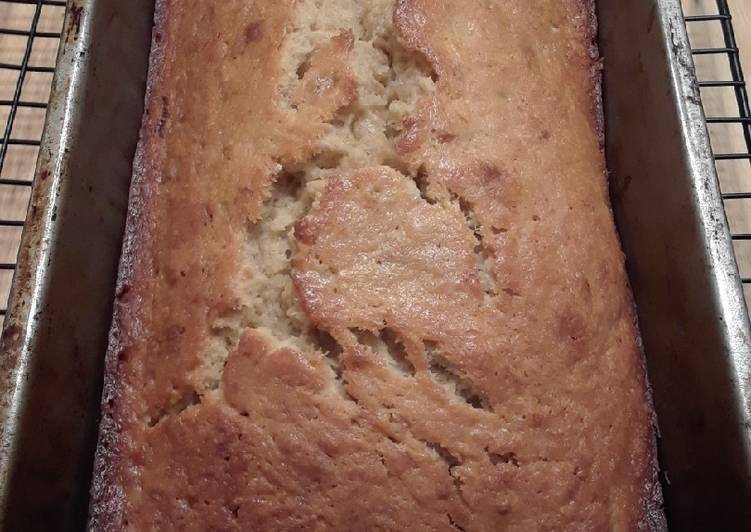 Beat banana and vanilla into the wet mixture together. Stream buttermilk into wet mixture while continually beating until smooth; add flour mixture and continue to beat until you have a smooth batter. Pour batter into the prepared loaf pan. You can have Buttermilk Banana Bread using 10 ingredients and 9 steps. Here is how you achieve it.
Ingredients of Buttermilk Banana Bread
You need 1/2 cup of unsalted butter, softened to room temperature.
It's 1 cup of sugar (I used half granulated, half brown).
You need 2 of large eggs, at room temperature.
You need 1 cup of mashed banana (about 3 medium or 2 large).
Prepare 1/4 cup of buttermilk, at room temperature.
Prepare 1/2 tsp. of vanilla extract.
You need 1 3/4 cup of all purpose flour.
It's 1 tsp. of baking powder.
Prepare 1/4 tsp. of salt.
You need 1/8 tsp. of baking soda.
With buttermilk in the batter, this banana bread bakes up tender and moist. And a hint of ground cinnamon and nutmeg beautifully compliment the banana's sweetness. This recipe for Buttermilk Banana Bread is perhaps one of the nearest and dearest recipes to our family. Once you make it, you'll never make another banana bread again.
Buttermilk Banana Bread step by step
Preheat the oven to 350°F. Grease a 9×5" loaf pan and set it aside..
In a medium bowl, whisk together the flour, baking powder, salt and baking soda. Set it aside..
In a large bowl, using a hand mixer, beat the butter until it is creamy, about 1 minute. Then beat in the sugar until it's nice and fluffy..
Add the eggs, mashed banana, buttermilk and vanilla extract. Beat until combined..
Next, add the dry ingredients to the wet and mix until just combined..
Pour the batter into the prepared loaf pan. Bake for 50-55 minutes, or until a toothpick comes out clean from the center..
Place the pan on a cooling rack. After about 15 minutes, gently run a knife around the edges to loosen the bread. Carefully remove it from the pan..
Let it cool out of the pan on the wire rack. Once it's cool, slice and serve. Store any leftovers in an airtight container..
For buttermilk banana muffins, fill greased muffin tins about 2/3 of the way full and bake @ 350°F for 18-20 minutes, or until a toothpick inserted into the center of the muffins comes out clean..
Buttermilk Banana Bread works perfectly for a full-size loaf, mini loaves, or muffins. If making muffins or mini loaves, watch the baking time and reduce it significantly. How to make homemade Buttermilk Banana Bread: Mash three bananas in a large bowl with the back of a fork. Add buttermilk, oil, sugar, and vanilla. Buttermilk Banana Bread The perfect banana bread contains one special ingredient, buttermilk!