Banana bread/cake. Serve slices of bread with a drizzle of hot fudge sauce and a dollop of. Bake until the bread is golden brown around the edges and a toothpick inserted in the middle comes out clean. I make banana bread all the time and I'm always looking for a new banana bread recipe.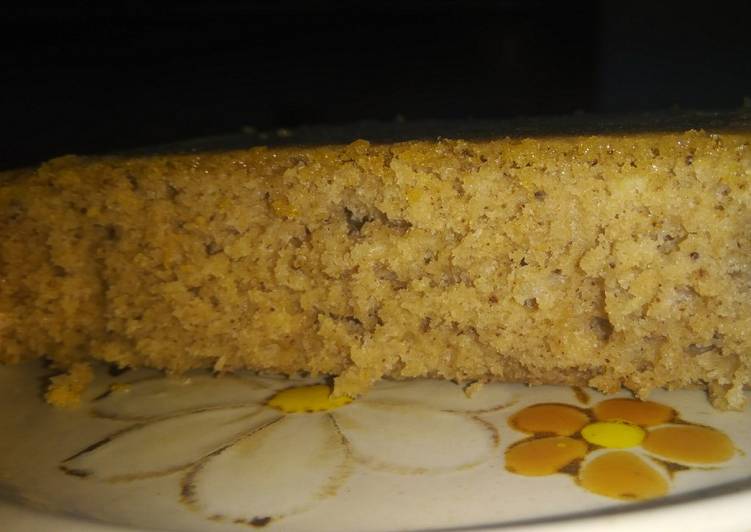 The exterior gets too overdone and brown while the inside was rather dry. The flavor was ok, but not the best I've made. Same with the texture: denser than a cake, but "sponge-ier" than banana bread would be. You can have Banana bread/cake using 10 ingredients and 8 steps. Here is how you achieve it.
Ingredients of Banana bread/cake
It's 300 g of all purpose flour.
You need 3 of large ripe bananas.
You need 2.5 tsp of baking powder.
You need 1 tbsp of cinnamon.
It's 2 tbsp of cocoa powder.
It's 4 of eggs.
It's 150 g of butter/margarine.
You need 100 ml of buttermilk.
You need 50 g of sugar.
Prepare 1 tsp of vanilla essence (optional).
I make banana bread/cake/muffins often to use up bananas at the end of the week. In large bowl, beat yellow cake mix, eggs, and bananas until well mixed. Fold in chocolate chips and sprinkles. Transfer batter into prepared loaf pans and smooth tops with a spatula.
Banana bread/cake step by step
Grease and dust your baking tin and preheat your oven to 180 degrees.
Mix all the dry ingredients.
Mash your bananas with a fork. In the case that your bananas aren't ripe enough (as was my case), put them in the oven at 180 degrees for 10 minutes. They will come out looking like this.
Cream your butter and sugar until light and fluffy.
Add the eggs and vanilla and mix..
Mix your dry ingredients, wet ingredients, bananas and milk until well combined.
Put your mixture in your baking tin and bake away.
Remove from the oven after forty minutes or until a knife/toothpick inserted in the middle comes out clean. Enjoy.
Well, the name of this banana cake is a little confusing. Quite frankly I didn't know what to call it. And do you eat it for breakfast with coffee or for dessert with milk? So much banana flavor, so soft & moist, and just crazy delicious. Garnish with sliced fresh bananas and chopped walnuts for an amazing dessert!