Banana Tea Muffins. Banana tea muffins are perfect for brunch, or to have with a cup of tea or coffee mid-morning. Heck, they'll even work for a midnight snack! Banana Tea Muffins Recipe Ingredients: Flour, sugar, baking soda, baking powder, salt, eggs, oil and bananas.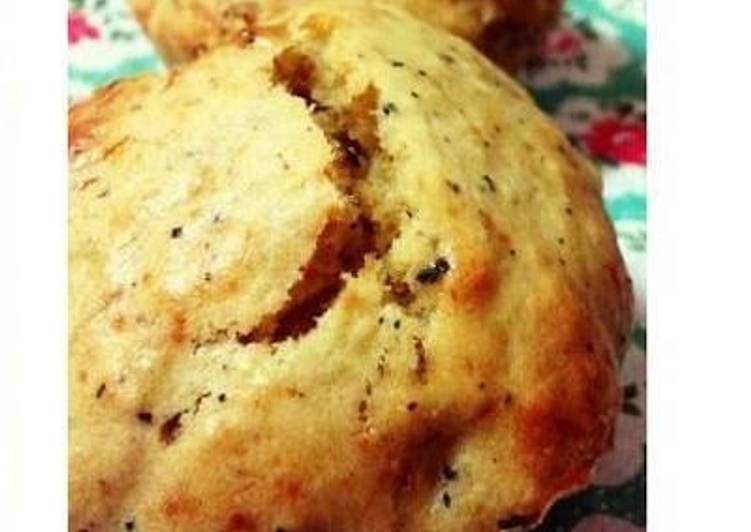 Fold in flour mixture until just combined. Add Bisquick and stir just until liquid and dry ingredients are combined. Sift flour, baking powder, baking soda, salt, and sugar into a large mixing bowl. You can cook Banana Tea Muffins using 8 ingredients and 5 steps. Here is how you achieve it.
Ingredients of Banana Tea Muffins
Prepare 2 of bananas.
Prepare 2 of eggs, beaten.
It's 60 g of butter or margarine.
You need 200 g of flour.
It's 1 tsp of baking powder.
You need 1 tsp of chocolate liqueur.
Prepare 60 g of sugar.
Prepare 1 Tbsp of tea leaves.
Mix together egg, shortening, and bananas. Add to dry ingredients, mixing only enough to dampen flour. Cream butter, beat in sugar and egg. Add flour mixture and banana alternately, beating well.
Banana Tea Muffins step by step
Preheat the oven to 180°C/350°F. Put bananas (with skins on) into a microwave to heat for a minute on 600W power. Remove the banana skins and put into a bowl with the margarine, then mash and mix together well..
Grate the tea leaves and add to the bowl through a tea strainer. Add beaten eggs, sugar and mix them well..
Add the chocolate liqueur, flour and baking powder into the bowl, and mix roughly. A powdery texture is ok..
Spread olive oil or margarine on the inside of the cupcake pan, or use silicon cups. Pour in the mixture to half way up each cupcake, and avoid over filling. Bake for 15 minutes or more and remove to a cooling rack. Once cooled, they are ready to eat. Enjoy!.
Note: I use "CHRISTMAS SPICED TEA" by Fortnum & Mason for tea leaves. For the liqueur, I use GODIVA's..
In a large bowl, combine dry ingredients. In another bowl, mash the bananas. Add egg, oil and vanilla; mix well. Stir into the dry ingredients just until moistened. These Banana Muffins are super easy to make, loaded with bananas and sprinkled with buttery crumb topping!