Reeses PB banana bread. In a large bowl whisk together the flour, baking soda, baking powder and salt, set aside. Line loaf pan with foil (makes clean up much easier). In a bowl combine flour, baking soda, cinnamon, nutmeg, and salt.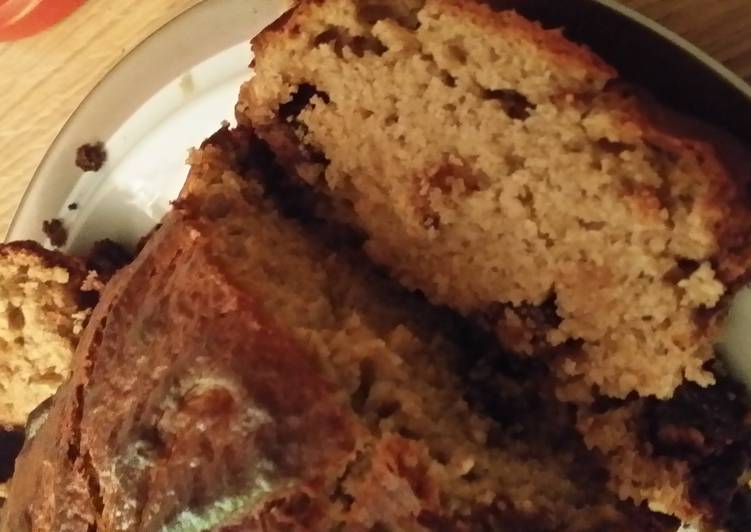 A rich thick peanut butter batter is laced with mashed bananas for flavor and chopped Reese's cups to gild the lily. Reese's Pieces Peanut Butter banana bread is classic banana bread with a makeover. This bread has a generous helping of peanut butter and Reese's peanut butter cups. You can cook Reeses PB banana bread using 11 ingredients and 6 steps. Here is how you cook that.
Ingredients of Reeses PB banana bread
Prepare 1 of eggs.
Prepare 1/2 cup of creamy peanut butter.
It's 1 1/2 cup of flour.
It's 1 1/2 tsp of baking powder.
Prepare 1/2 tsp of baking soda.
Prepare 1/4 cup of brown sugar.
You need 1/2 cup of sugar.
It's 1/2 tsp of salt.
It's 1/4 cup of vegetable oil.
You need 8 oz of bag of resses mini pb cups.
Prepare 3 of ripe bananas.
This easy loaf recipe is a delicious breakfast treat or snack! I am constantly looking for new ways to bake up some Peanut Butter Banana Bread. Change up your banana bread with the addition of peanut butter and Reeses Peanut Butter Cups in these Reeses Peanut Butter Banana Bread. One of my favorite parts of Christmas is filling the stockings.
Reeses PB banana bread step by step
Preheat oven to 350°F.
Whip bananas until light.
Add egg, oil, pb and blend well.
Add all other ingredients except resses pb cups…blend well.
Gently stir in resses pb cups.
Turn into well greased pan and cook one hour or until toothpick comes out clean when inserted.
My husband and I aren't big on giving lots of gifts to each other, but I do love to get stuff to fill his stocking. Super moist banana bread made with peanut butter and Reese's cups. If you love peanut butter and chocolate (and banana bread!), then you are in the right place, friends. It's made with a cake mix but it tastes just like a traditional banana bread, plus my all time favorite – Reese's Peanut Butter Cups – and more chocolate with the addition of chocolate chips. And since it's technically a bread, you could even have it for breakfast!