Whole-wheat Banana Pancakes. These banana pancakes are so fluffy, no one will guess they're made with whole wheat flour! Top these whole wheat pancakes with peanut butter and sliced bananas for extra protein and fiber. If you even remotely like banana bread then you will absolutely love these banana pancakes.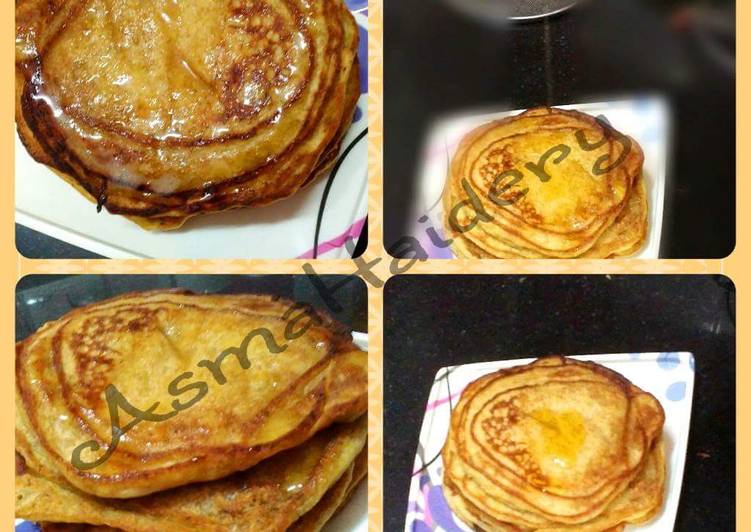 Y'all, these pancakes are perfect in every way! They're healthy, hearty, flavorful, moist, fluffy, and oh so yummy! We make them at least once a week and I usually double the batch so we have leftovers to eat for a few days thereafter. You can have Whole-wheat Banana Pancakes using 13 ingredients and 10 steps. Here is how you achieve that.
Ingredients of Whole-wheat Banana Pancakes
It's 1/2 cup of + 1 tbsp milk.
It's 1/2 tbsp of lemon juice.
You need 1 of +1/2 tbsp curd.
You need 1 of egg.
You need 1/4 cup of ripe banana mashed.
Prepare 1 tbsp of sugar.
It's 1 tsp of vanilla essence.
Prepare 3/4 cup of whole wheat flour.
You need 1/2 tsp of baking powder.
It's 1/2 tsp of baking soda.
Prepare 1/8 tsp of salt.
Prepare 1/4 tsp of nutmeg powder.
Prepare 1/4 tsp of cinnamon powder.
These whole wheat banana pancakes are made without crazy additives and chemical sugar substitutes. Here's also what makes these banana pancakes a little healthier than regular pancakes. Flour: We're using vitamin-rich whole wheat flour instead of all-purpose flour for the base of these pancakes. Whole Wheat Banana Bread Pancakes with Chocolate Chips Banana bread pancakes that taste exactly like a slice of banana bread.
Whole-wheat Banana Pancakes step by step
In a bowl add milk and lemon juice and leave for 15mins to curdle..
Now add curd, egg yolk, mash banana, sugar and vanilla essence.Mix nicely..
Beat the egg white until stiff peaks form. Set aside..
In a large mixing bowl, whisk together the flour, baking powder, baking soda, salt, cinnamon, and nutmeg..
Make a small well in the center of the dry ingredients and pour the wet ingredients in..
Using a spatula, stir together until a few dry spots remain. Fold in the egg white..
Place a skillet over medium-high heat and melt a small amount of butter in the pan..
Pour 1/4 cup of batter into the pan and allow the pancake to cook for 2 minutes, then flip and continue cooking for an additional 2 minutes..
Repeat with the remaining batter, buttering the pan between each batch..
Serve with maple syrup..!! Enjoy..!!!.
Made with whole wheat flour and dairy free too! Whisk together the blended oats, whole wheat flour, all-purpose flour, brown sugar, dry milk powder, baking powder, baking soda, and salt in a bowl; set aside. Instructions In a small bowl, mash the bananas until they are nice and lumpy, set aside. In a medium bowl, Whisk flour, baking powder and salt. In a small bowl, whisk the milk, egg and vanilla extract.