apple and cheddar oatmeal muffins. Unbelievably moist apple muffins made with oatmeal and whole wheat flour. Delicious and good for you, these muffins are great for fall breakfasts! These Apple Cheddar Muffins are both sweet and savoury.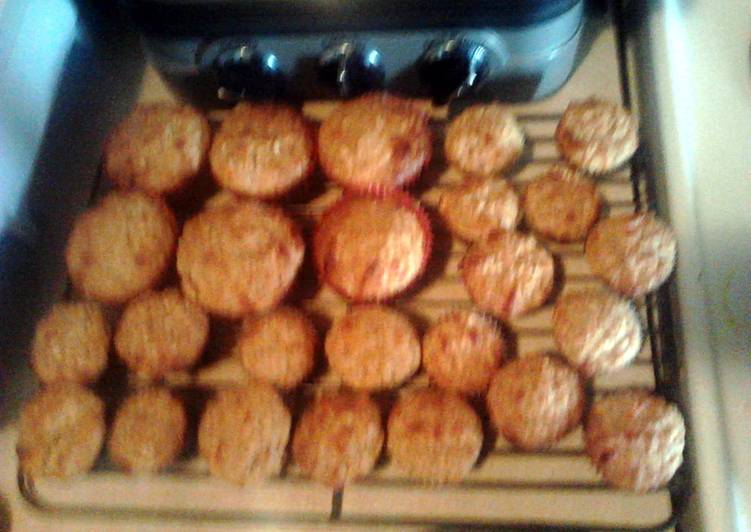 Mix the batter only until the dry ingredients are moistened. Apple and Cheddar Scones Barely tweaked from The Perfect Finish. Last week I made cheddar scones, and this week I made apple muffins (with your deeeelicious Combine that with my recent obssession with baking scones (I made oatmeal scones last night). You can have apple and cheddar oatmeal muffins using 12 ingredients and 8 steps. Here is how you cook it.
Ingredients of apple and cheddar oatmeal muffins
It's 1 1/4 cup of quakers quick whole grain oats.
It's 1 1/4 cup of all purpose flour.
Prepare 1/2 cup of granulated sugar.
Prepare 1 tsp of baking powder.
You need 1 tsp of ground cinnamon.
Prepare 1/2 tsp of baking soda.
Prepare 1/4 tsp of salt.
Prepare 3/4 cup of shredded or chopped apple(about 1 med).
Prepare 3/4 cup of shredded cheddar cheese.
You need 1 cup of apple juice or can subsitude for low fat milk.
You need 2 large of egg whites/ OR 1 Large egg slightly beaten.
You need 2 tbsp of vegetable oil.
WHISK sugar, canola oil and eggs in a large bowl until combined. STIR flour mixture into egg mixture just until combined. Scoop into a lined muffin pan. Sleeping in is nice but so is waking up to hot and fresh Oatmeal Apple Muffins.
apple and cheddar oatmeal muffins step by step
pre heat oven 400°F. line miffin tins(12) large.
mix all dry ingredents together.
stir in cheese and apples.
combine apple juice/milk in seperate bowl and mix with oil and egg.
add oil and egg mixture to oatmeal mixture.
bake 20-24 min or until golden brown.
cool on wire rack 5 minutes.
serve warm and yum yum.
COMBINE flour, sugar, baking powder, baking soda, salt, cinnamon and cheeses in large mixing bowl. BEAT egg, buttermilk, oil and apple together thoroughly. ADD liquid ingredients all at once to dry ingredients. Apple and cheddar is a classic pairing. Think apple pie with a slice of cheese – sweet with a hint of savoury, crisp yet creamy.