Banana Bread (Quick & Easy). Combine bananas, sugar, egg, and butter together in a bowl. Mix flour and baking soda together in a separate bowl; stir into banana mixture until batter is just mixed. Pour batter into the prepared loaf pan.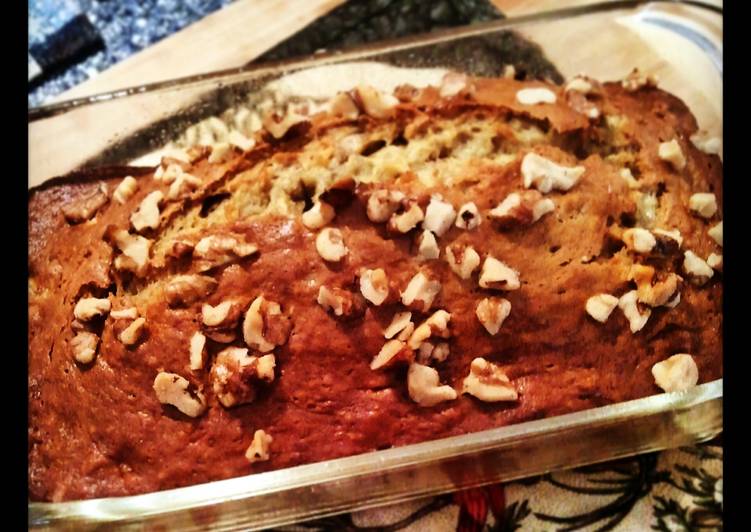 Store overly-ripe bananas in the freezer until you have enough to make bread. Cut up thick slices of the bread and freeze them for a lunch box treat or for an on-the-go breakfast, toasted and spread with peanut or almond butter. To make banana bread, you'll need pretty straightforward ingredients. You can cook Banana Bread (Quick & Easy) using 8 ingredients and 6 steps. Here is how you cook it.
Ingredients of Banana Bread (Quick & Easy)
You need 4 of Bananas, smashed.
It's 1/3 cup of melted butter.
Prepare 1 cup of sugar.
It's 1 of Egg, Beaten.
You need 1 tsp of vanilla.
Prepare 1 tsp of baking soda.
You need 1 pinch of salt.
Prepare 1 1/2 cup of all-purpose flour.
Naturally the first thing you need is bananas. I like to mash them up with a muddler, but you could also simply use a fork. The beauty of this banana bread recipe is you don't need a fancy mixer! A mixing bowl, a fork to whisk the eggs and a sturdy spoon to mix the batter are all you need.
Banana Bread (Quick & Easy) step by step
Preheat oven to 360°.
In a large bowl, Mix with a wooden spoon, butter into the mashed bananas.
Mix in the sugar, egg, & vanilla well.
Mix baking soda, salt & flour in well..
Pour mixture into a greased 4×8 loaf pan. Bake for and hour..
Optional, add walnuts, chocolate chips, etc. for additional yumminess.
Cream the sugar and butter in a large mixing bowl until light and fluffy. Add the eggs one at a time, beating well after each. In a large bowl, combine flour, baking soda and salt. In a separate bowl, cream together butter and brown sugar. Stir in eggs and mashed bananas until well blended.