Carrot Cake with Butter & cream. Made this cake for my carrot cake loving boyfriend's birthday last year, and he said it was the best carrot cake he's ever had. About to make it for his birthday tomorrow, as he's been requesting it and talking about it for the past year. This cake came out moist and just sweet enough.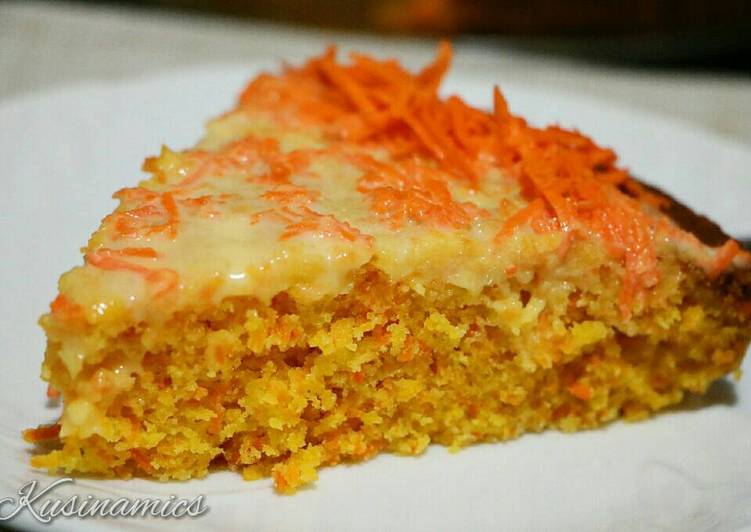 Cookies and Cream Fudge Carrot Cake with butter instead of oil: A fat is necessary to keep cakes moist and tender. While butter is sometimes used as the fat in mild cakes (like yellow, white or pound cakes), a flavorless oil like canola or vegetable oil is best for carrot cakes. The carrot cake gets its flavor from the other ingredients — like the carrots and spices. You can have Carrot Cake with Butter & cream using 9 ingredients and 3 steps. Here is how you achieve it.
Ingredients of Carrot Cake with Butter & cream
It's 2 of medium eggs, beaten.
You need 1 tsp. of vanilla extract.
Prepare 2 cups of grated carrots.
It's 1/2 tbsp. of salt.
You need 3/4 cup of vegetable oil.
Prepare 1 tsp. of baking powder.
You need 1 tsp. of baking soda.
It's 1 cup of caster sugar.
You need 1 1/2 cup of cake flour.
Using oil (whether vegetable, canola, olive, or coconut) instead of butter keeps the cake lighter and more tender than melted butter would. For an even healthier carrot cake, replace all of the oil with an equal amount of unsweetened applesauce. In a large bowl, whisk together flour, salt, baking soda, and cinnamon. In another large bowl with a hand mixer (or in the.
Carrot Cake with Butter & cream instructions
Preheat oven to 350 degrees F. Grease and line the sides and bottom of a 9 inch round pan. Set aside.In a mixing bowl, Sift the dry ingredients, (Cake flour, baking soda, baking powder, salt, and caster sugar)..
Add oil, carrots, eggs, and vanilla extract. Mix until moistened.Pour into prepared pan and bake in preheated oven for 35 minutes or until done.Cool for 10 minutes before removing from pan. Cool thoroughly then frost with butter cream frosting..
Butter cream frosting: 1/2 cup butter 1 pack all purpose cream 1 1/2 cup confectioner's sugar *Beat butter and all purpose cream together until soft and smooth. Add confectioner's sugar and beat until fluffy. Frost the top of the cake then add extra carrots as decoration..
But for cakes like chocolate cake and carrot cake that have flavor from other ingredients, I find flavorless oil is the best choice. Applesauce: To prevent the cake from tasting too moist (wet) and oily, I add some applesauce. You could even use crushed pineapple, too! In a large bowl, combine the flour, sugar, cinnamon, baking soda and salt. Add the eggs, oil, carrots and vanilla; beat until combined.