Applewood Smoked wings and turkey legs.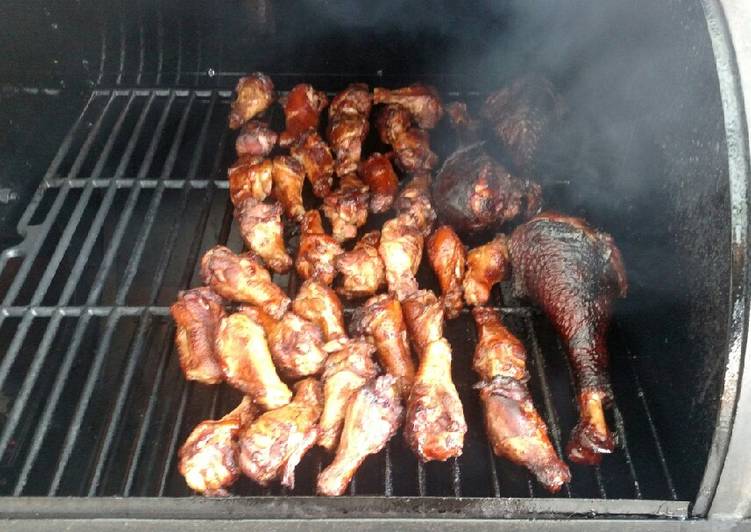 You can have Applewood Smoked wings and turkey legs using 12 ingredients and 16 steps. Here is how you achieve that.
Ingredients of Applewood Smoked wings and turkey legs
Prepare 4-5 pounds of chicken wings.
Prepare 3 of turkey legs.
You need of Garlic salt.
You need of Salt.
It's of Pepper.
It's of Water.
It's of Frank's Red Hot.
Prepare of Sweet Baby Ray's BBQ.
Prepare of Parmesan.
It's of Garlic Powder.
Prepare of Applewood.
It's of Brown sugar.
Applewood Smoked wings and turkey legs instructions
Make brine for wings and turkey legs with salt and brown sugar. Use separate bowls. Chill for two hours.
Bring smoker up to heat. 250°. Maintain 250° throughout smoking process until the end..
After wings and turkey legs have chilled for two hours, remove from fridge, drain and pat dry.
Dry rub salt, pepper and garlic salt on wings and turkey legs.
Dry rub turkey legs with salt, pepper & garlic salt..
Place wings in aluminum pan for indirect heat.
Place wings in smoker and turkey legs on opposite side from heat.
After one hour, flip wings and turkey legs.
Flip turkey legs after one hour.
Smoke for one more hour. Keep heat at 250°.
On the third hour of smoking, stir up wings and drain off any excess liquid. Keep in pan. Flip legs.
Hour four, remove wings from pan and finish wings on grill in smoker.
The last 30 minutes of smoking, raise heat to 350°-400°. Temp of wing and turkey legs should be at least 180°.
Remove from smoker, Sauce wings with Frank's Red Hot, BBQ & Garlic/Parmesan. Leave at least 8-10 wings plain…or not. Lol..
Eat and be fat and happy.
I almost forgot about the turkey legs. Eat those to, share with friends and family..