Peanut Butter Chip Cheesecake Brownies. These peanut butter cheesecake brownies are so simple to make! Thick, rich, chocolate peanut butter cheesecake perfection. With sweet ribbons of peanut butter cheesecake brownies.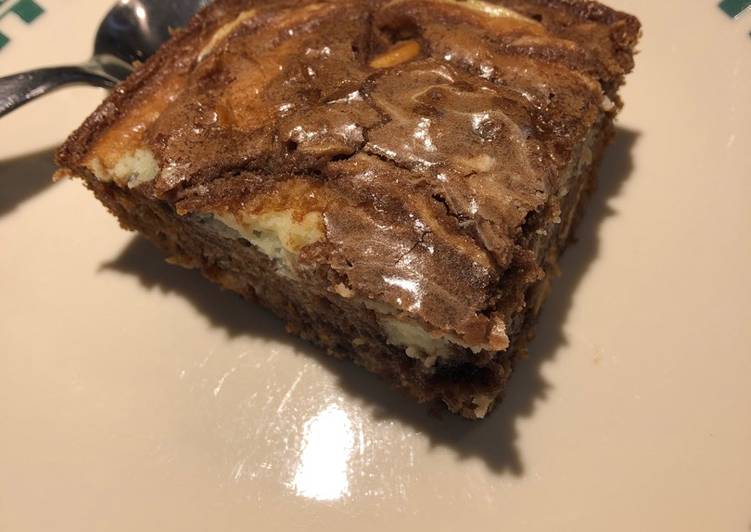 These Peanut Butter Cheesecake Brownies look like swirls of sweetness. Cheesecake and Peanut Butter Combine in this amazing moist brownie! Melt REESE Peanut Butter Chips in the microwave for one minute. You can have Peanut Butter Chip Cheesecake Brownies using 8 ingredients and 11 steps. Here is how you achieve it.
Ingredients of Peanut Butter Chip Cheesecake Brownies
It's 1 box of brownie mix (I used an 18 oz box).
It's 1 (8 oz) of package cream cheese, softened.
You need 1 of egg.
You need 1/3 cup of white sugar.
You need 1/2 cup of peanut butter chips(or more if you would like).
You need 1 teaspoon of vanilla extract (you can use imitation also).
You need 9 of x 13 inch baking pan(I used a glass baking pan).
You need of Butter cooking spray.
These Peanut Butter Cheesecake Brownies were meant to be cheesecake swirled brownies, but after making the cheesecake batter, I realized there was too much batter to swirl. I rolled with it and made an entire peanut butter cheesecake layer, which I think worked out better anyway. Remove from oven and sprinkle on choc chips, peanut butter chips and the peanut butter cups. I actually made this and another variation of peanut butter cup brownie bottom cheesecake today, and sliced them up to make a sampler platter to take to a birthday celebration tonight.
Peanut Butter Chip Cheesecake Brownies instructions
Prepare brownie mix as directed on package but DO NOT BAKE…… the baking step will come later !.
Gently fold in your peanut butter chips and the vanilla extract, set this off to the side….
It should look like this….
In a separate bowl using an electric mixer beat the cream cheese and sugar together with the egg until it's a smooth consistency…….
Preheat oven to 350 degrees….Spray baking pan with butter nonstick cooking spray…….
Spread HALF of brownie mix into bottom of prepared baking pan…….
Dollop cream cheese mixture over half of brownie batter……
Pour other half of brownie mixture over cream cheese mixture.
Using a dull butter knife gently swirl cream cheese mixture into brownie mixture……you want it to have a marbled look…..
Bake in your 350 degree oven between 20 – 23 minutes…. you'll know it's done when you insert a toothpick into the middle of it and it comes out nice and clean…….
Cool for 20-30 minutes, cut into bars, eat and enjoy 😉!.
Well, these bite-sized peanut butter cheesecake brownies fall into that category and are totally dangerous, let me tell you! And yes, I just said peanut butter, brownie and cheesecake. Separate, they're all delicious, but together they create one heavenly dessert. I don't think I have to convince you anymore on that front. For more chocolate peanut butter effect, additional peanut butter chips are sprinkled on top.