Marbled chocolate banana bread. Add one cup of the banana bread batter to the melted chocolate and stir until well combined. Spoon the plain batter and chocolate batter alternately into the prepared loaf pan. Combine flour, baking soda and salt, stirring with a whisk.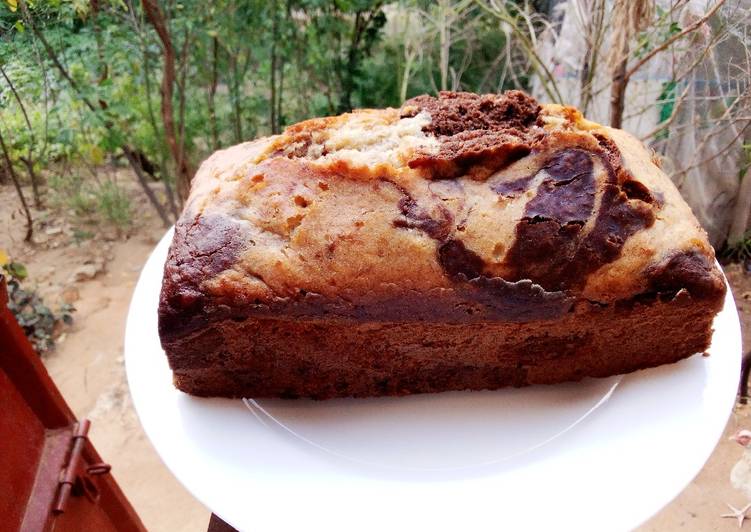 Marbled Chocolate Banana Bread You all know I love a good banana bread but this marbled chocolate banana bread has got to be my favorite because chocolate and bananas are such a classic and delicious combo. Tips for Making Marbled Chocolate Banana Bread To mash the bananas, simply place the peeled bananas in a bowl and mash with a fork. No fancy potato masher or other equipment needed. You can have Marbled chocolate banana bread using 10 ingredients and 6 steps. Here is how you achieve it.
Ingredients of Marbled chocolate banana bread
You need 1.5 c of flour.
You need 1 TBS of baking powder.
Prepare 1 tsp of salt.
Prepare 1/2 c of oil/ melted butter.
Prepare 1/2 c of sugar.
Prepare 2 of ripe bananas.
It's 2 of eggs.
You need 1/4 c of milk or yogurt.
It's 15 g of cocoa powder.
You need 1 TBS of cinnamon powder.
I like to leave some pieces of banana in there – feel free to mash to whatever consistency suits you best! A moist, delicious vanilla banana bread swirled together with rich chocolate banana bread. A fun twist on a traditional reduced fat banana bread. Quick breads are one of my favorite things to bake.
Marbled chocolate banana bread step by step
Prepare baking tin. Sift flour, baking powder, salt and cinnamon. Mix and set aside.
In a bowl mash bananas well with a fork. Add sugar, oil, eggs and yogurt. Mix well.
Add the flour mixture and mix till just combined..
Divide in half and add the cocoa powder to one bowl. Dollop the white and cocoa batters alternatively into your baking tin and swirl with a butter knife.
Bake in preheated oven until ready. Used jiko for about 40mins.
Allow to cool in tin for 10mins, remove on a rack to cool completely. serve.
A slice is perfect for breakfast, or a quick afternoon or late night snack. Be careful not to burn the chocolate. Place one cup of the banana bread batter into a bowl, and stir in melted chocolate and cocoa powder by hand until it's completely incorporated. Fill the loaf pan with half the banana batter and then half the chocolate batter. Repeat the layers and gently swirl together using a spoon or knife.