Carrot Cake Waffles. Preheat a waffle iron to medium-high. Whisk together the finely ground pecans, flour, sugar, baking powder, cinnamon, baking soda, ginger. How to Make Carrot Cake Waffles Start by whisking your wet ingredients together – the eggs, milk, yogurt and vanilla.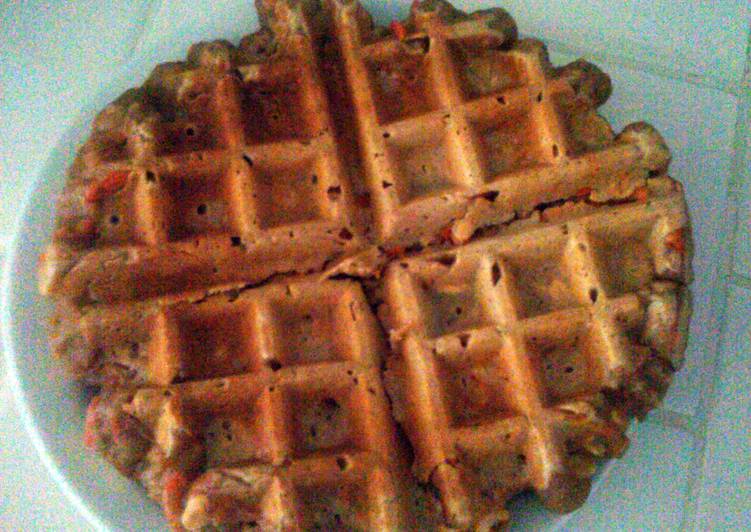 Remove waffle from machine and drizzle maple cream cheese over the warm waffle. Carrot cake is one of my favorite desserts, and making waffles out of grated carrots, sugar and flour, eggs, milk and butter with some cinnamon, vanilla and cardamom is a great way to start the day. What I love most about waffles is how easy they are to make. You can cook Carrot Cake Waffles using 13 ingredients and 3 steps. Here is how you cook it.
Ingredients of Carrot Cake Waffles
Prepare 1/2 cup of AP Flour.
You need 1/2 cup of WW Flour.
Prepare 1/2 cup of Quick oats.
It's 1/2 cup of Sugar.
It's 1 tsp of Cinnamon.
You need 1 tsp of Baking soda.
Prepare 1 tsp of Vanilla extract.
It's 1 cup of Grated carrots.
You need 1/4 cup of Vegetable oil.
It's 1/4 cup of Egg whites.
It's 1/2 cup of Milk.
Prepare 1/2 cup of Pecan pieces.
It's 1/2 cup of Raisins.
Yes, you need a waffle maker, but if you have one, the waffle possibilities are endless. Mix the cake mix according to package directions, adding the chopped nuts plus the additional water, making a thick, flowing batter. Peel, core and dice the apples. Melt the butter in a saute pan and, when it stops foaming, add the apples and toss over medium heat.
Carrot Cake Waffles instructions
Add all to a bowl and mix together.
Mix will be thick. If dry add a bit more milk..
Just add to your waffle griddle!.
Cover, lower heat and cook until soft but still slightly crisp. These Carrot Cake Waffles are soft, thick, fluffy and so easy to make for the perfect healthy and low carb breakfast for spring or Easter brunch. Made with all the classic carrot cake flavors without the guilt. PIN HERE for later and follow my boards for more recipe ideas. Healthy Carrot Cake Waffles Carrot cake waffles are a carrot cake flavored homemade waffle that is topped with nuts, dried fruit, and a drizzle of syrup.